Virtual Open House "Live in India"!
Gravure redefined by Kohli!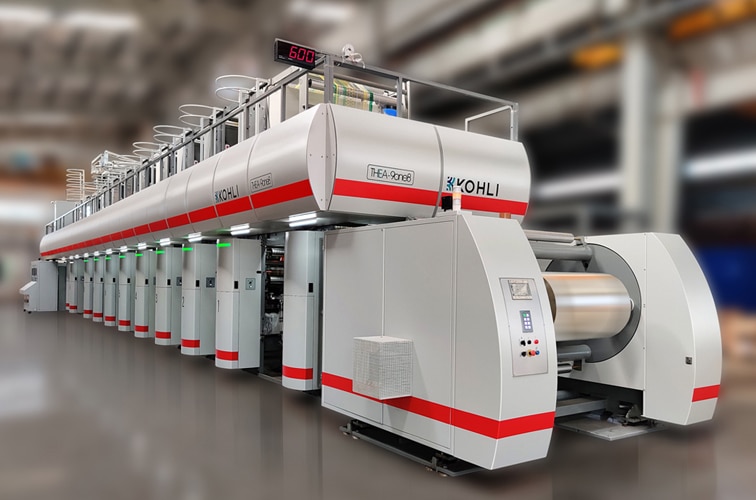 On June 16, 2021, Kohli Industries will introduce version 3.0 of Thea-9one8 – already the most anticipated gravure printing press for the flexible packaging industries worldwide!
A momentous event for the flexible packaging industry. Don't miss this virtual Open House "Live in India"!
Want to get a first impression of this most sophisticated gravure printing press?
Here we are!
Why all the buzz about this new gravure press?
Thea-9one8 is the latest gravure press of Indian manufacturer Kohli Industries. Sustainable, best-in-class productivity, always online and ready to embrace the industry of the future, Thea-9one8 is clearly ahead of its peers.
This environmentally friendly gravure press is compatible with water-based inks, LED-UV and EB curing lacquers and is ready for extended colour gamut (ECG) printing. The press handles a wide range of flexible materials including thin and recyclable films. Thea-9one8 is suitable for short, medium and long print runs.
"Focus on EASE"
Ease of job changeovers: shaft-less mounting of printing cylinders, interchangeable light weight ink trolleys and sleeve type impression rollers
Ease of registration: register presetting and set up of repeat jobs, high register accuracy at all speeds and fastest register correction during speed change and splice
Ease of production: maximum output with minimal downtime, manpower, wastage and energy consumption
Ease of information: live monitoring and live press updates any time, any place, any device
Ease of maintenance: predictive maintenance, interactive manuals and intelligent electronics for complete human-machine interaction
Thea-9one8 offers a wide range of personalization and customization options in co-operation with world leading companies which include:
Electronic shaft integration from Siemens
Register control from BST eltromat
Web inspection from BST eltromat and Erhardt + Leimer
Impression sleeves and ink feed rollers from Rossini
Viscosity controllers from Gama
Electrostatic Print Assist (ESA) from Enulec
100% defect detection from BST eltromat and Futec
LEL control from Honeywell and Nira
Kohli takes production safety very seriously. Therefore, Thea-9one8 is equipped with:
Active static discharge bars along the press with explosion-proof bars on each printing unit
Static monitoring at multiple positions along the press with pre-settable alarms
CO2 firefighting system with nozzles and temperature sensors at each printing unit
CE conformity following strict European safety standards
Version 3.0 – A step even further!
Version 3.0 of Thea-9one8 gravure printing press for flexible packaging production offers even more smart and sophisticated features you shouldn't miss to see.
So, let's meet on June 16, 2021, at the Virtual Open House "Live in India" to get a glimpse into the future of flexible packaging production!
Register here to see how Thea-9one8-3.0 contributes to the benefit of your gravure business.
More information on gravure printing
Download now for free: Our special trade magazine "Gravure Global.
Subscribe to our monthly special newsletter "Gravure Global". Click here to download it.
Another highlight is our "Gravure Guide", which is also available for free download.
On "Gravure Global" you will find the latest information about gravure printing. Click here!
Weitere Artikel zu diesem Thema